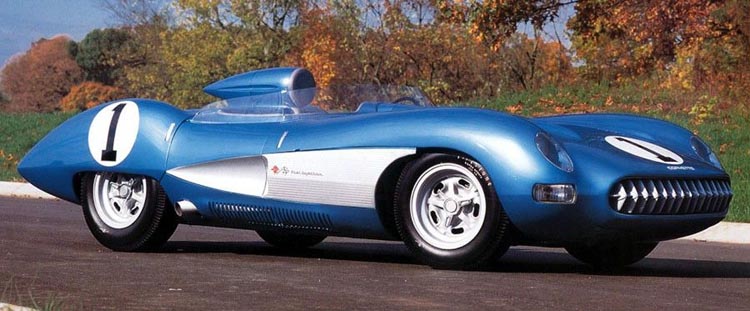 This Chevrolet Corvette 'SS' is an experimental magnesium-bodied car and set a new lap record at Sebring, Florida, in 1957. It has served as the forerunner of many Corvette sports/racing models. Zora Arkus-Duntov, engineer-designer of the car, presented it to the Indianapolis Motor Speedway on May 29, 1967, during the drivers' meeting prior to the 51st Indy 500 mile race, which was paced by a Chevrolet Camaro.

Led by the gifted Zora Arkus-Duntov, a team of engineers created this ultra-lightweight (1850 lbs) and powerful (307 horsepower) racing car using the Mercedes 300SL as their template. A featherweight magnesium body enveloped a tubular steel space frame that featured coil-over-shock front suspension, a de Dion rear axle and inboard-mounted aluminum drum brakes. A fuel-injected small-block V8 that could reach 307 horsepower at 6,400 RPM sat under the hood.

The 1957 Corvette SS was a 'concept car', created with the goal of competing in the 24 Hours of LeMans. Two chassis were built, 'the Mule' and the car to be raced. However, its first test would not be in the crucible of LeMans, but in its shorter American counterpart, the 12 Hours of Sebring.

The Corvette SS raced for the first time at Sebring, where suspension problems and other mechanical defects forced its retirement after only 23 laps. General Motors was enthusiastic about the potential of the SS based on results from practice and lap speeds.

Juan Manuel Fangio, the winner at Sebring in 1957, was impressed enough with the car to test the SS under practice conditions. The results was astonishing: Fangio completed a full lap a full 3:27.4 seconds faster in a car he had never driven before than other drivers could in cars they were experienced driving.

Despite GM's enthusiasm, Corvette was scrapped months later, as the American auto making community would unite to ban the manufacture of factory-produced racecars. This wouldn't stop GM from rolling out the Corvette as a sports car for the layperson who loved combining the look and feel of a racing car with the comfort of an everyday vehicle. To this day, Corvette is renowned for producing some of the finest cars not only in the United States, but also throughout the world.