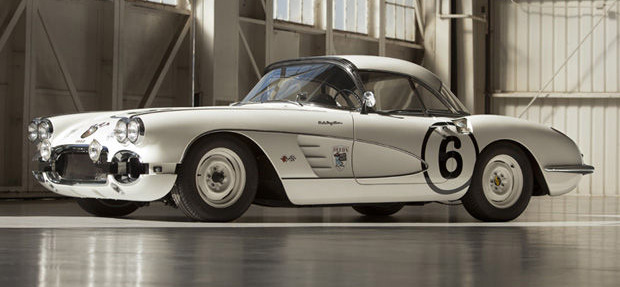 George Reed of Illinois was a gentleman racer in the traditional sense of the term – wealthy, commanding and fiercely competitive. By the late 1950s, he had already made a name for himself as a driver with strong finishes at Sebring, Nassau, Cumberland, Road America, Watkins Glen and Wilmot Hills. Reed also owned some of most sensational cars of the era, from a Ferrari 250 TR to a 375 MM. As the years passed, Reed became increasingly successful on track and, in 1958, won the C-Production National Championship behind the wheel of a 250 GT Tour de France.

In addition to his racing exploits, Reed was the owner of RRR Motors in Homewood, Illinois. RRR was not only a distributor for Ferraris, Alfa Romeos and Goodyear racing tires, it was the name of a racing club that George started in the 1950s. The acronym stood for "Reed's Race Rats" and an artist was commissioned to create a shield that was featured on the members' cars depicting a rat in full race regalia, angrily pointing at a pit board.

By the late 1950s, RRR Motors was competing in the premier American road racing events. Although George was typically behind the wheel of a Ferrari, he yearned for success in other categories. In 1960, he found a perfect contender in the Chevrolet Corvette.

A few years earlier, the AMA ban had put a stop to factory-sponsored racing and, as of June 1957, there was no longer a factory-backed Corvette. Cleverly, Chevrolet had the famous RPO option, which allowed anyone with the money, connections and insight to purchase a car from the factory that was, for all intents and purposes, race ready. Because of this option package, Corvettes remained popular on the track and did well in the hands of enthusiastic dealers and wealthy privateers.

Around that time, Nickey Chevrolet of Chicago – a famous dealership known for their high-performance supercars – was taking a break from racing. George Reed contacted Nickey and ordered this RPO race-optioned Corvette specifically for the upcoming 12 Hours of Sebring. The car arrived in the first week of March, shortly before the race. Nickey's legendary engine builder Ronnie Kaplan was put to the task of creating a rock-solid engine that could withstand the rigors of the punishing 12-hour race.

The car had made its way down to Florida, where Reed enlisted renowned engineer Zora Arkus Duntov, who was there merely as a spectator, to help with final race preparation. With his guidance, the suspension tuning was completed the very morning of the race. As Reed was driving his own Ferrari California Spider, Chuck Hall and Bill Fritts were contracted to drive the RRR Motors entry. Apparently Chuck Hall, a very young man at the time, had to beseech his finance professors to allow him to skip class so that he could drive at Sebring.

Their flawless driving saw the purposeful "Race Rat" finish First in Class (GT-14) and an admirable 16th overall. The car finished the grueling race in 12 hours, 2 minutes and 30 seconds at an average speed of over 72 mph – extremely impressive numbers for what was a heavily modified production sports car. Of the six Corvettes entered, this was the only one to finish in the top 25. It was a tremendous boon for Reed, who happened to finish the race 5th overall.

After the race, this very special Corvette passed through the hands of two owners before it settled with John Jurecic in the Fall of 1962. He gave the car a more discreet appearance so that it could be used on the street and he enjoyed it for a number of years before selling it to his good friend Randall Krystosek in 1965.

Although his father technically owned the car until he turned 21, Mr. Krystosek used the class-winning Corvette as a daily driver throughout college and medical school. After being stored for a six-year period while he was going through his surgical training and a stint in the army, the car re-emerged to serve as weekend amusement. In a letter, he fondly recalls the rare racing components that were included on the car: heavy-duty suspension, a quick steering adaptor, huge finned brakes with metallic linings and a large gas tank. Not surprisingly, the car earned a fearsome reputation as it easily defeated the newer Corvettes in the occasional stoplight competition.

Eventually Mr. Krystosek could no longer contain his curiosity about his car's early racing history and contacted Corvette authority Nolan Adams. After a thorough inspection, Adams found a number of unique features that distinguished the car from an ordinary street Corvette. The car was found to have an unusual high-performance generator, special fuel- injection, the rare 5 1/2" wheels and the "A" designation on the build number indicating an LPO (Limited Production Option) 24-gallon fuel tank.

Mr. Krystosek retained the car until 2004, when a noted California collector acquired it. Over the next few years, the Corvette was carefully researched and restored to its original racing livery. After it had been disassembled and the paint stripped for restoration, it was discovered that all the original factory and RRR Motors markings were still intact, and certain areas where racing parts had been installed were clearly visible. Chip Werstein, together with Doug Prince, was charged with the task of project management, assembly and final detailing. Euro Body provided the bodywork and paint, and QMP Racing and J&D Corvette made sure that the mechanicals were overhauled and historically accurate.

Presented here is a most exciting and fascinating piece of American racing history and one of the most important solid-axle Corvette race cars in existence. This car was prepared by a leader in high-performance Chevrolets, was a winner at the most important American endurance race and bears significant associations with many of the influential names in American road racing. Furthermore, presented in its gleaming all-white livery, it is certainly one of the most attractive Corvette race cars to be found. The 1960 Sebring Race was conducted as an FIA World Championship event and the car is therefore currently eligible for a wide variety of historic events and would also be eligible for FIA Historic races once FIA papers are applied for and issued.

While George Reed's "Race Rats" are no more, his class-winning Corvette is still around and looks just like it did when it roared across the finish line at Sebring 49 years ago.
-Photo and information by Gooding & Company