1962 #4 Corvette - 12hr of Sebring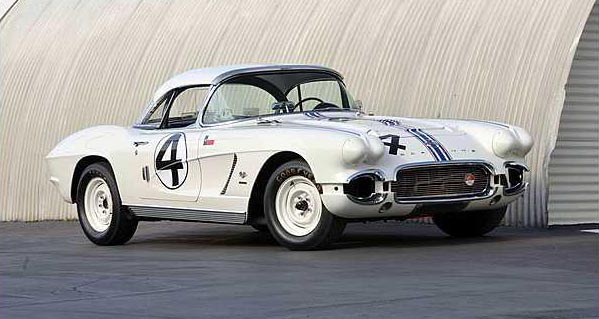 Although Chevrolet was officially out of the racing business in 1962, the factory's "back door" was always open to a small group of Corvette racers, privateers who enjoyed a constant flow of special equipment from inside Zora Arkus Duntov's engineering department. One very successful beneficiary was Texas Chevy dealer Delmo Johnson, whose successes had earned him Duntov's respect and support. Because of this, when Johnson wanted a new mount for the 1962 season, he picked up the phone and dialed Duntov's number. Recalled Johnson in 2000, "I called Zora and said, "Build me a race car. The only other thing I said was to make it white."

On January 12, 1962, a new Ermine White Corvette moved off the assembly line loaded with every racing option available, including the new fuel-injected 327 engine, a four-speed transmission, Positraction and RPO 687 heavy duty suspension and brakes that were crucial to its success on the track. Johnson flew to St. Louis, took delivery of the new Corvette and drove it back to Dallas to break it in. Once there, Johnson and his mechanic Bill Goodfellow prepared the car for competition, blueprinting the engine, fitting a roll cage and lap belt and stripping all unnecessary weight. They also added the contents of a crate that had arrived at Johnson Chevrolet soon after the Corvette, including a 37.5 gallon fuel tank, aerodynamic headlight covers, a louvered hood insert, front sway bar and plexiglass hood deflector. Together known as the "Sebring Package", the extra goodies prepared the car not only for the grueling Florida endurance races at Daytona and Sebring, where it won 3rd in class, but the entire fifty-week racing calendar.

Johnson repeated his arduous 1961 racing schedule with his new A-Production terror, competing at Daytona, Sebring, El Paso, Corpus Christi and throughout the Southwest, even racing at the famous Nassau Speed Weeks event. After dozens of class or overall wins, Johnson and his friend and co-driver Dave Morgan claimed yet another SCCA Southwest Division A-Production championship.

At season's end, as he always did, Johnson returned the car to stock and put it on his Dallas lot, where it was purchased by Jeff Sandlin, who raced the car infrequently for 12 years. By the time Sandlin sold it to Michael DuPre in 1976, the car's history had been forgotten, so when DuPre took it to the Nabers Brothers in Houston for a fresh coat of Honduras Maroon, Ken and Gary Naber assumed it was just another early-sixties Corvette that had seen some racing action. Then one day the Nabers took notice of a photograph in Karl Ludvigsen's book Corvette, America's Star-Spangled Sports Car, showing Delmo Johnson's Corvette at the start of the 1962 Sebring 12 Hours. Its unique five-stripe paint scheme was something the Nabers had seen once, and only once, before: behind the rear license plate bezel on DuPre's '62 Corvette. DuPre and the Nabers re-examined the car and, after careful research, determined that it was the same machine appearing in the Sebring photo. Another historically significant Corvette racer had surfaced.

After driving the car for another five years, in 1981 DuPre informed the Nabers of his interest in selling the car. Coincidentally, vintage racer and Corvette collector Rich Mason had been searching for a 'Vette with a racing history; the Nabers introduced Mason to DuPre, and soon thereafter the car was in Mason's caring hands, undergoing a restoration to its 1962 Sebring configuration. The exterior was returned to its Johnson livery, and the engine rebuilt and refitted with the original Rochester fuel injection unit. Mason left the remainder of the car as it was, largely unchanged from its original race-ready state, as it remains to the present.

The Johnson/Morgan Sebring Corvette became a popular fixture at vintage racing events up and down the West Coast at Monterey, Riverside, Portland, Seattle and other venues. In 1985 it was featured in Road & Track magazine, with Dan Gurney behind the wheel, in a comparison test between three contemporary cars and their early-sixties predecessors. In a moment of indiscretion that has since taken on the charm of a typical Gurney exploit, the All-American Racer launched the car into a massive burnout that resulted in slight contact with a vintage Ferrari also taking part in the comparison tests; the magazine's editors assured Gurney that they would pay for repairing the minor damage to both cars, but not long afterwards, Mason received a letter of apology from Dan, along with a check for $500 (copies of both are now part of the car's extensive documentation)!

After eighteen years of ownership and increasing responsibilities elsewhere, Rich Mason reluctantly found a new and highly qualified steward for this historic machine. The famous Delmo Johnson/Dave Morgan 1962 Sebring Corvette remains in the care of a dedicated collector, still in excellent race-ready condition, still every bit the great American sports racer made famous by Zora Arkus Duntov and his racing friends from Texas.

-Photo & information by Mecum Auctions
1962 #25 Corvette - 12hr of Sebring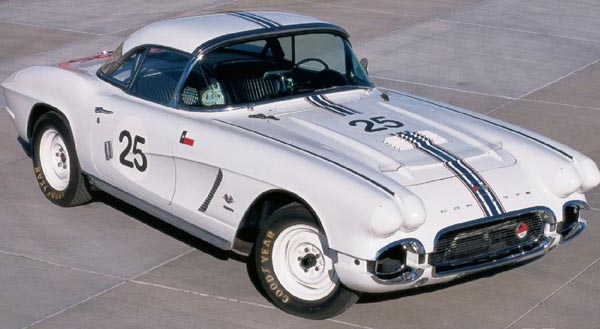 By today's standards, solid-axle Corvettes are among the poorest riding, least comfortable, and most ill-handling cars imaginable. All the same, a handful of individuals with the skill and the courage to tame the wild beasts actually went racing with them, and in so doing managed to blaze a trail through the record books at tracks around the country and around the world.
Delmo Johnson is one of those skillful and courageous souls who helped establish Corvette's reputation as a world-class production road racer. He owned Johnson Chevrolet, the largest Chevy dealership in Texas, and began competing in Corvettes in 1959. In a harbiger of things to come, he won the first race he ever entered, the "Frostbite" at Ft. Worth, held January 1, 1959. He went on to win hundreds more races, as well as class honors at Sebring and SCCA divisional championships
As Corvette history buffs know, 1962 marked the debut of the 327 engine. Because the larger powerplant packed a lot more punch, the SCCA decided to move Corvettes up a notch into A-production. Older cars fitted with 283 engines continued to compete in B-production.
Always on the hunt for greater speed and greater thrills, Delmo decided to replace the '61 he had been racing with a brand-new 1962 Chevy Corvette. Owing to his demonstrated skill behind the wheel and prior successes with Corvettes, Delmo had a close relationship with legendary chief engineer Zora Arkus-Duntov and enlisted his assistance with the new car.
"It was easy," Delmo recalls. "I called Zora and said, 'Build me a race car.' The only other thing I said was to make it white."
Zora knew exactly what to do, and in mid-January a gleaming Ermine White Corvette rolled off the St. Louis assembly line fitted with all available competition options. Included among these were fuel injection, a four-speed transmission, Positraction axle, a 24-gallon fuel tank, and RPO 687, the heavy-duty brake and suspension package that turned a normal Corvette into a capable-for the time-road racer.
Delmo flew to St. Louis, took delivery of his new toy, and drove it back to his home base in Dallas. Once there he and Bill Goodfellow (the man Delmo describes as "probably the finest mechanic I've ever known") went to work on it. They performed all of the basic race car prep, including blueprinting the engine and drivetrain, installing a rollbar and competition lap belt, and removing the bumpers and other unnecessary, weight-adding parts.
Delmo and Goodfellow also installed the contents of a wooden crate that arrived at Johnson Chevrolet a few days after the car did. Shipped from General Motors' Research and Development Center, the innocuous looking container housed what Chevy engineers dubbed the "Sebring Package."