The Corvette C5-R was part of a plan by General Motors and their Chevrolet brand to create a factory team to participate in grand touring races not only in North America, but also elsewhere in the world, most notably at the 24 Hours of Le Mans. GM had previously been against approving factory support for Corvette racing programs, although the IMSA GT Championship's Corvette GTPs had seen some support until they ended competition in 1989. With the fifth generation Corvette however, GM chose to show the performance capabilities of the new car by using a more production-based racing car instead of the "in-name-only" Corvette GTP. Their intentions were to take on Dodge and Porsche, who were already running in the category at the time.
General Motors chose the Pratt & Miller group of Michigan to build and develop the new racing cars, as well as to organize the racing team in preparation for a debut in 1999. Riley & Scott also assisted in the project, running a second team for a year. Since regulations in place at the time limited the team to using elements of production Corvettes, Pratt & Miller and GM used heavily modified road car mules to test out the engine and other equipment that the racing cars were to use.
Later, the actual race chassis were built, sharing only basic key structural elements with the road cars. A firewall was placed immediately behind the driver's seat in the cockpit, eliminating any rear visibility inside the car. A large diffuser and wing were added to the rear, while a splitter and vents on the hood were added to the front. The front headlights were also replaced with protruding permanent units in place of the pop-up headlights on the road car.
The C5-R initially used a 366 ci (6.0 liter) V8 engine based on the road car's LS1. This was replaced with a larger 427 ci (7.0 liter) engine several months later during the 1999 season, and became the standard engine for the C5-R for the rest of its career. Katech Engine Development constructed the C5-Rs engines, although they retained elements of the production LS1 units.
1999 ALMS GTS Class

| | | | | | | |
| --- | --- | --- | --- | --- | --- | --- |
| Jan 31 | Daytona, FL | 24hrs | USSRC | GT2 | Start 1 & 4 | Finish 2 & 12 |
| Mar 20 | Sebring, FL | 12hrs | ALMS | GTS | Start 1 & 2 | Finish 4 & 7 |
| Sep 19 | Road Atlanta, GA | 100km | ALMS | GTS | Start 3 & 3 | Finish 3 & 4 |
| Oct 10 | Laguna Seca, CA | 2hrs | ALMS | GTS | Start 3 | Finish 2 |
| Nov 7 | Las Vegas, NV | 2hrs | ALMS | GTS | Start 3 | Finish 3 |
2000 ALMS GTS Class
| | | | | | | |
| --- | --- | --- | --- | --- | --- | --- |
| Feb 6 | Daytona, FL | 24hrs | Grand Am | GTO | Start 1 & 3 | Finish 2 & 10 |
| Mar 19 | Sebring, FL | 12hrs | ALMS | GTS | Start 1 & 5 | Finish 6 & 5 |
| July 17-18 | Le Mans, France | 24hrs | FIA | GTS | Start 2 & 3 | Finish 4 & 3 |
| Aug 6 | Mostport, ON | 2hrs 45min | ALMS | GTS | Start 1 | Finish 2 |
| Sep 2 | Texas Motor Speedway | 2hrs 45min | ALMS | GTS | Start 2 | Finish 1 |
| Sep 30 | Road Atlanta, GA | 10hrs | ALMS | GTS | Start 1 & 1 | Finish 1 & 3 |
| Oct 15 | Laguna Seca, CA | 2hrs 45min | ALMS | GTS | Start 1 & 4 | Finish 2 & 2 |
| Oct 29 | Las Vegas, NV | 2hrs 45min | ALMS | GTS | Start 5 & 2 | Finish 3 & 6 |
2001 ALMS GTS Class

| | | | |
| --- | --- | --- | --- |
| Feb 3-4 | Rolex 24hrs | Start 14 & 19 | Finish 1 & 2 |
| Mar 4 | Texas 2hrs 45min | Start 6 & 7 | Finish 1 & 4 |
| Mar 17 | 12hrs of Sebring | Start 10 & 12 | Finish 2 & 3 |
| Jun 16-17 | 24hrs of LeMans | Start 27 & 29 | Finish 1 & 2 |
| July 22 | Sears Point 2hrs 45min | Start 10 & 11 | Finish 1 & 2 |
| Aug 4 | Portland 2hrs 45min | Start 1 & 3 | Finish 1 & DQ |
| Aug 19 | Mosport 2hrs 45min | Start 3 & 4 | Finish 1 & 3 |
| Aug 25 | Mid-Ohio 2hrs 45min | Start 14 & 15 | Finish 1 & 2 |
| Sep 9 | Laguna Seca 2hrs 45min | Start 7 & 8 | Finish 2 & 3 |
| Oct 6 | Audi Petit Le Mans 1000 miles | Start 15 | Finish 1 |
2002 ALMS GTS Class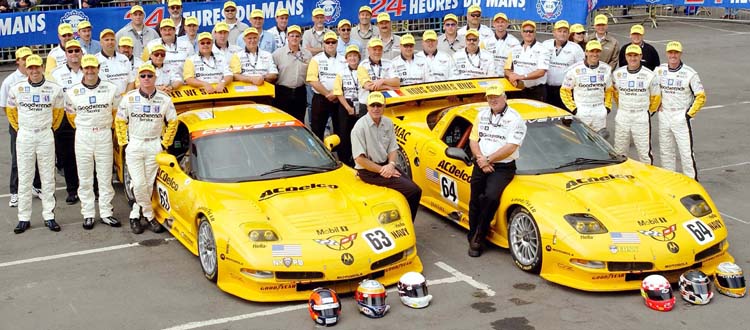 | | | | |
| --- | --- | --- | --- |
| Mar 16 | 12hrs of Sebring | Start 1 & 2 | Finish 1 & 4 |
| May 19 | Sears Point 2hrs 45min | Start 11 & 12 | Finish 1 & 2 |
| June 15-16 | 24hrs of LeMans | Start 29 & 32 | Finish 1 & 2 |
| June 30 | Mid-Ohio 2hrs 45min | Start 10 & 13 | Finish 1 & 2 |
| July 7 | Road America 500 miles | Start 1 & 2 | Finish 1 & 2 |
| July 21 | RFK Stadium Circuit 2hrs 45min | Start 1 & 2 | Finish 1 & 2 |
| Aug 3 | Le Circuit Trois Rivieres 3hrs | Start 12 & 13 | Finish 1 & 2 |
| Aug 18 | Mosport 2hrs 45min | Start 13 & 15 | Finish 1 & 2 |
| Sep 22 | Laguna Seca 2hrs 45min | Start 3 & 4 | Finish 3 & DNF |
| Oct 5 | Miami 2hrs 45min | Start 13 & 15 | Finish 1 & 2 |
| Oct 12 | Petit Le Mans at Road Atlanta 1000 miles | Start 18 & 20 | Finish 1 & 3 |
2003 ALMS GTS Class

| | | | | |
| --- | --- | --- | --- | --- |
| Mar 15 | Sebring, FL | 12hrs | Start 1 & 2 | Finish 1 & 3 |
| Jun 14-15 | LeMans, France | 24hrs | Start 3 & 5 | Finish 2 & 3 |
| Jun 29 | Road Atlanta | 2hrs 45min | Start 1 & 2 | Finish 1 & 3 |
| July 27 | Infineon Raceway | 2hrs 45min | Start 1 & 4 | Finish 1 & 2 |
| Aug 3 | Le Grand Prix de Trios Rivieres | 3hrs | Start 2 & 4 | Finish 1 & 2 |
| Aug 17 | Mosport | 2hrs 45min | Start 1 & 4 | Finish 1 & 7 |
| Aug 24 | Road America | 2hrs 45min | Start 1 & 2 | Finish 2 & 5 |
| Sep 7 | Monterey Sports Car Championship | 2hrs 45min | Start 3 & 4 | Finish 2 & 3 |
| Sep 27 | Cadillac American LeMans Challenge | 2hrs 45min | Start 2 & 3 | Finish 4 & DNS |
| Oct 18 | Petit LeMans at Road Atlanta | 1000 miles or 10hrs | Start 4 & 6 | Finish 3 & 5 |
2004 - ALMS GTS Class, 10 Races, 10 Poles, 10 Wins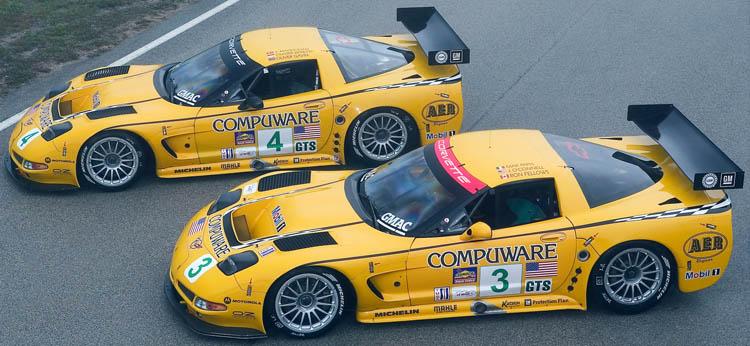 | | | | | |
| --- | --- | --- | --- | --- |
| Mar 20 | Sebring, FL | 12hrs | Start 1 & 2 | Finish 1 & 6 |
| Jun 12-13 | Le Mans, France | 24hrs | Start 1 & 2 | Finish 1 & 2 |
| Jun 27 | Mid-Ohio | 2hrs 45min | Start 1 & 2 | Finish 1 & 2 |
| July 5 | Lime Rock Park | 2hrs 45min | Start 1 & 2 | Finish 1 & 2 |
| July 18 | Infineon Raceway, CA | 2hrs 45min | Start 1 & 2 | Finish 1 & 3 |
| July 25 | Portland, OR | 2hrs 45min | Start 1 & 2 | Finish 1 & 2 |
| Aug 8 | Mosport | 2hrs 45min | Start 1 & 2 | Finish 1 & 2 |
| Aug 22 | Road America | 2hrs 45min | Start 1 & 2 | Start 1 & 2 |
| Sep 25 | Petit LeMans @ Road Atlanta | 1000 miles or 10hrs | Start 1 & 2 | Finish 1 & 2 |
| Oct 16 | Laguna Seca | 4hrs | Start 1 & 2 | Finish 1 & 2 |